Good Shepherd Child Care Center
At Good Shepherd Children's Center, we share with the families the responsibility of caring for, educating, guiding and nurturing all the children who enter our doors. The children are under the guidance of qualified, trained personnel. The early years of life are learning years. Keeping this belief in mind, we strive to provide each child with high quality programming that promotes a child's growth and development. In addition to assisting each child in reaching developmental milestones, we focus on a child's self-esteem, personal creativity, social interaction and development of self-expression skills. We assist the children in developing cultural and Intergenerational awareness and acceptance. Through our daily programming, we work on all areas of a child's development. This includes teaching the children about healthy eating habits and the importance of physical activity.
It is the intent of Good Shepherd Children's Center to create an environment in which a child feels safe and secure. We strive to provide positive programming that will benefit the children, the families and the Community. We encourage families to visit us during normal hours of operation to learn more about our center and staff.
Our Staff meet or exceed State licensing qualifications for child care providers, are CPR, SIDS and Shaken Baby Syndrome certified and are trained in recognition of child abuse and neglect.
Licensed to serve 107 children
Hours/Days: Mon-Fri 6:00 am-6:00 pm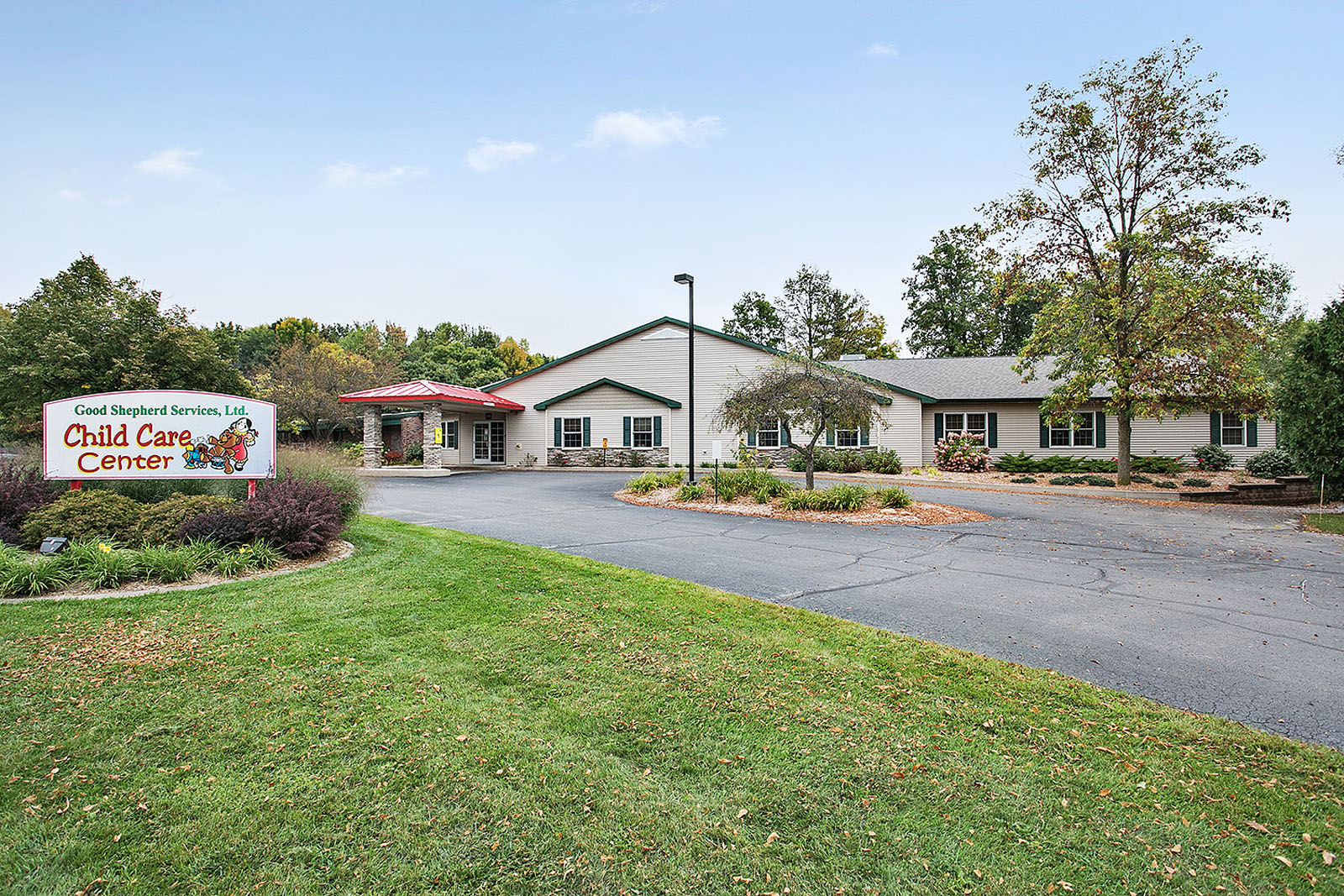 Located in Rock Ledge Intermediate School.
Structured and unstructured activities.
Summer Program & Before & After School Programs.
Ages: Kindergarten through 12 years of age.
Summer Program, close to baseball diamonds, aquatic center and Rock Ledge Summer school courses.
School-aged programs; children can walk to and from class.

Teaches important social skills
Provides a variety of learning and play experiences
2.5 hour morning sessions, twice a week, 64 sessions per year between September and May
Ages: 8 to 11 years.

Loving staffing.
Keeps in mind the developmental level of each child.
Works towards reaching developmental milestones such as rolling over, crawling, walking, language development, self-help skills.
Communicate with parents daily.

Working on All Areas of Development

Social & Emotional Development
Language & Communication Development
Approaches to Learning
Cognition and General Knowledge
Large outdoor play ground
Intergenerational Programming

Activities with the residents of Good Shepherd Nursing Home

In today's fast paced world with electronic communication, we often forget the importance of personal interaction. Who gets lost in our high tech society but the very young and the elderly. A text message or e-mail cannot replace the health benefits that come from a smile and spending quality time together. Across the Country, there is an increasing awareness as to the benefits of combining youth and the elderly in activities and programming. Children learn tolerance and compassion for people with disabilities and the elderly. The elderly feel loved and needed. Studies have shown that intergenerational programming increases the cognitive abilities and health of both generations. An environment that combines both youth and the elderly creates a family-like atmosphere that allows for personal interaction and a sense of caring, trust and sharing of knowledge. Ask your child care or elderly care provider what they do for.
"Our plan was to have my mom care for our son a couple days a week at her home. When she became ill and ended up at Good Shepherd Home, we felt blessed that she was able to spend time with him at the Children's Center. She looked forward to seeing and interacting with him every day. Their time together was priceless." Viki D.